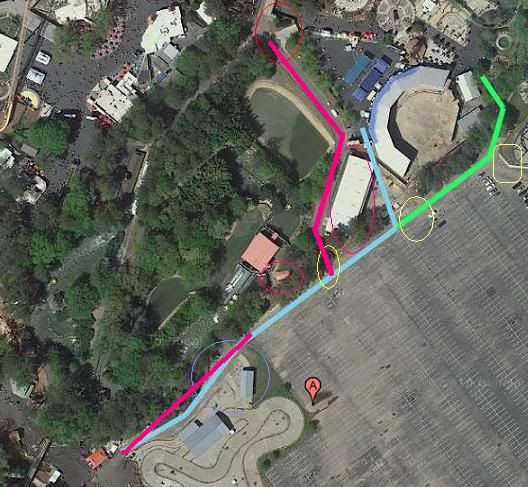 Here's the problems with the idea of a pathway, for those who aren't up on the back of the house stuff. Red thick lines are where non guest paths already exist. These are also there for emergencies, such as fire and rescue. Yellow ovals are gates that would have to be removed. Red circles indicate things like the food warehouse, Thunder River maintenance, etc. Blue circle is for Go karts and for park vehicles to gas up. Also in the area pictured, (not circled) is the propane tank for the park. Also realize that the red path past the food warehouse is a good ten feet lower than Thunder River's average water level.
From talking with Melinda, she would love to do these things, (she really wants to get rid of the old lot) but this is an extreme long term goal of hers... we're talking twenty years plus. She'd rather expand out into the lot and get more parking for the Gold lot.
One other radical idea I had... most of the lower park is in a flood plain... what do cities do to protect themselves from flooding? Build levees. Surround that part of the park with a levee at the edge of property... heck, turn it into tunnels and build the park on top of it.
Can't put a dark ride down there until we fix the flooding issue. We'd ruin the animatronics every time it flooded. (About every three years or so.)
I hope this helps to clear things up... mods, if you feel this post is too revealing, please remove it.